Results of Vinod Babu's street photography competition: Workers
So many great photos were uploaded! Thank you all for joining this great competition, Congrats to you all!


Vinod Babu curated this competition and here are his choices


Reminder Pre-order offer! You can pre order the WSP5 photo book already for 10 Euros less then the normal selling price. Just login at WSP and go to: https://world-street.photography/en/shop to place your pre-order.
Curators First Choice
The curators first choice is awarded to Omesh Meena for the image 'Into the city '
Vinod Babu: It's a very bizarre image for me as the buildings look so gloomy (so is their future) and these workers are heading towards them. It sort of creates a very uneasy feeling in me, especially this juxtaposition of huge buildings, concrete and this family. Even the muted color tones add a lot to this grim scene. I can keep looking at this photo for days!


Curators Second Choice
The curators second choice is awarded to Tejal Mewar for the image 'Workers at the salt field'
Vinod Babu: A very well shot balanced image with beautiful color tonality. The composition of this photograph makes me keep looking at it and the flash and the expression on the lady's face has added a lot to this photograph.
Special mentions
The man and his Daily fight by JESUS JIMENEZ
Vinod Babu: These brick kilns are very tough places to work and I have personally heard people talking about their ill-treatment shown by their owners. As the photographer writes, its indeed his daily fight!
Life in brick field by Sutapa Roy
Vinod Babu: A powerful portrait and those eyes say it all.
Phinisi crews by Avesina Dharma
Vinod Babu: Wonderful balance all through the frame. The hidden face brings a certain kind of mystery into this image.
by Jeffrey De Keyser
Vinod Babu: Harsh contrast and the three tines make this an amazing photograph. I like it for the reason being not too revealing making the viewer do the guesswork.
We need to save the human race by hitesh makwana
Vinod Babu: It's just magical how the concrete wasn't dripping at one particular spot, making the man behind clear. The dusty texture of the land and the color makes it gloomy.
Reflections by Stanislav Sitnikov
Vinod Babu: This photograph is beautiful and it's almost like a painting but still, this is very dangerous and many have lost lives doing this dangerous job.
@StanislasDorange by Stanislas Dorange
Vinod Babu: For a moment I thought it to be the same man!
Vinod Babu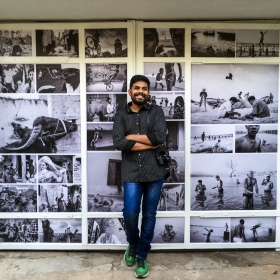 b.1990, India. Vinod Babu is an Independent photographer based in Hyderabad. He holds a Post Grad Degree in Environmental Engineering and worked in a consulting firm before quitting the job to pursue photography. He was part of Curatorial Team- Indian Photography Festival, 2015 and 2016 editions. Vinod is also a member of India Street Photography Collective, 'That's Life'.
EXHIBITIONS / PROJECTIONS / SLIDESHOWS
Pune Design Festival, 2017; Serendipity Arts Festival, Goa, 2016; Coloreel, Vizag 2016; Satya Art Gallery, Ahmedabad 2016; Auckland Festival of Photography, 2016; Head On Photo Festival, 2016; Indian Photography Festival, 2015; Street Photo Thailand, 2015; Focus Photography Festival - Blow Up, Mumbai 2015; Glasgow Visual Arts Festival, 2014 Frames; Blow Up - Angkor 2014 Projections; UNICEF, Hyderabad, 2014.
PUBLICATIONS
The Caravan Magazine, Geography and You Journal; Radio 7 Live – Italia, www.sokakhikayeleri.com – 10 Indian photographers, LensCulture - Collectives Spotlight #4- That's Life; Book- 'Goddess of Folk'- Kakatiya Heritage Trust; 10 Emerging Street Photographers of India, Better Photography Magazine - 2015; Michael Areas set of '10 Interesting Photographers'; Kyoorius Magazine, 2014; Headlined in 'Street Photography around the world' in ISP Magazine in Nov/Dec'14; PH Magazine 45th Issue; 'Capture - The Annual, 2014'; F-Stop Magazine in Group Exhibition category; 121 Clicks (Interview); Newspapers- Eenadu, Sakshi and N.T.