Results of Alex Coghe's documentary series competition
This is first Series competition we did and we must say it was a great success! So many great series were uploaded! Thank you all for joining this great competition, Congrats to you all!

Notice we only show 1 photo of the winning series, please click on the photo to see the other photos.

Alex Coghe curated this competition and here are his choices


Reminder Pre-order offer! You can pre order the WSP5 photo book already for 10 Euros less then the normal selling price. Just login at WSP and go to: https://world-street.photography/en/shop to place your pre-order.
Curators First Choice
The curators first choice is awarded to laura mexia for the image 'Irreversible'
Alex Coghe: Oh, I love this series! The photographer shows an event happened in a short space of time, but being able to capture the essence, the energy of those moments, giving intense images endowed with poignant poetry. I am enthusiast of this work because I think is really complete from the point of view of the equilibrium between form and content. The theme is really clear, anchored on emotions and manages to get into the documented situation the observer. it seems to be there, with those guys. The precious black and white is put at the service of a representation of beautiness, and I like the fact here we can see a genre, the so called daily life, often upstaged compared to breeaking news or typical topics we see in social documentary. And this is still social documentary, in my opinion, at its best. The value of this work should be appreciated exactly for what it is: a documentation, where also without captions I can get in the mood of the series, simply because the photographer has been able to make a great story telling work, connected with envinronment and the situation, emphatic and respectous of the subjects. For me this work is a natural winner!


Curators Second Choice
The curators second choice is awarded to Mario Harlekin for the image 'Tribe NYC'
Alex Coghe: This documentation reminded me the metropolitan portraits of Jamel Shabazz. Furthermore I immediately go into a story that reminds me certain old school rap, the one born and developed right in New York City. The photographer shows to represent something that he/she knows or has been documented to get in sync with subjects in a natural and spontaneous way. When we are busy with staged shots in photojurnalism is very important to be able to get energy and a particular tension, because we are not simply making portrait pictures. We can still have a straight approach when we are making posed pictures. In this case the important feature is still the composition and the choices we make at the moment to press the shutter, in order to get dynamism and a remarkable documentation of the atmosphere that is lived, to to get as much as possible the soul and the feeling of the people. Great work!
Special mentions
Karaburma, my ghetto by Igor Coko
Alex Coghe: Well, this work immediately struck me. This is a work realized in a barrio, and the author reveals on the title of the series that is his/her ghetto. I know perfectly the degree of emotional involvement when you are documenting the place where you live. I have a lot of respect for anyone deciding to document the neighborhood, for two things. the first one is that we don't need to go in the other side of the world to get stories, and with stories, i mean impactful stories. And the second one is because by photographing your neighborhood you hacve to work on yourself, making abstraction from the place, in order to get an equidistance that let you to reveal something different and at the same time you have the advantage to obtain a sincere portrait of the place, avoiding easy sensationalism but yet finding strength to represent a certain social commentary.
Alex Coghe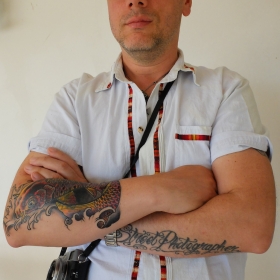 Alex Coghe is an Italian Photojournalist based in Mexico.
Born in Rome (Italy), currently based in Mexico City, Alex Coghe is a photojournalist, publisher, writer and street photographer.
Street Photography, Social Documentary, but also portraits, events, fashion and erotica are his specializations. Currently he is journalist at Rome Central Magazine.
He has published among others on Lens Culture, Witness Journal, Il Messaggero, Doc!, Photowoa, The Phoblographer, Cuartoscuro, and Excelsior. His work so far was exhibited in several collective shows from Los Angeles to Miami, from Barcelona to Hamburg arriving to exhibit his work also in a theater in Rome. Alex Coghe is currently editor/publisher of the electronic magazines THE STREET PHOTOGRAPHER NOTEBOOK and LA STRADA. Alex is also a prolific writer with several books published about photography technique and visual culture. He is also giving photography workshops and photo tours in Mexico and all over the world, thanks to the fact he speaks 3 languages: Italian, English and Spanish. Alex Coghe is Official X Photographer for Fujifilm Mexico.
You can also join one of Alex's workshops: Day of the dead (Mexico), Dolce Vita (Italy)