Results of Jonathan Highbee's street competition: Juxtaposition 2
So many great photos were uploaded! Thank you all for joining this great competition, Congrats to you all!

Jonathan Highbee curated this competition and here are his choices


Reminder Pre-order offer! You can pre order the WSP5 photo book already for 10 Euros less then the normal selling price. Just login at WSP and go to: https://world-street.photography/en/shop to place your pre-order.
Jonathan Higbee: Man, so many of the photographers who entered this competition have eyes! This competition was a challenge for me to curate as I came across a mountain of intriguing photos and an inspiring range of unique styles and voices. With literally dozens of photographs that made it through my initial selection process, I decided to focus on work that seemed to effortlessly come together -- though juxtaposition is arguably one of the hardest genres to pull off! Photographs with strong, undeniable and coherent narratives also became a deciding factor. Finally, images that stayed with me over the course of a few days – a sign that a work possesses that hard-to-define x-factor quality – were given priority. Out of hundreds of fantastic entries, it's these photographs that I couldn't stop thinking about while curating. Congratulations to these talented artists who can clearly tap into that layer of life that is invisible to most.
Curators First Choice
The curators first choice is awarded to Bouwe Brouwer for the image ''
Jonathan Higbee: This photograph infiltrated my dreams. That's not something I can say has ever happened before! It does have a bit of an ethereal quality, sure, but that's not why I couldn't stop thinking about it; It's because of the effortless story and the beauty of the disparate elements (the siren, the man, the vapor trail left by a plane) coming together and being anticipated by Bouwe. In addition to those qualities, the more subliminal factors like the brilliant use of leading lines, the nuanced geometric patterns, and the composition itself (great use of negative space and minimalism) surely kept this work brewing in my head, and likely will for a long time to come.


Curators Second Choice
The curators second choice is awarded to Ivan Huet for the image 'Red'
Jonathan Higbee: This image also sticks with you. It recalls the artistry of Saul Leiter and the eyes of Siegfried Hansen while still maintaining the singular voice of the photographer who made it. Like the image above it, "Red" doesn't force the viewer to scour the entire frame to investigate what exactly made the photographer fire the shutter. It's a coherent, clear work, with a multi-layered juxtaposition, expert color story, and thoughtful use of geometry that packs the otherwise minimal photograph with additional visual interest. The work invites the eyes of viewers to linger, with a rich payoff that reminds us all why we love modern street photography.
Special mentions
El Matador by David Shokouhbeen
Jonathan Higbee: "El Matador" is yet another photograph that doesn't require viewers to devote time and attention (things in such short supply these days!) to understand. The work immediately pulls in the viewer, literally. The way the colorful textile stretches from the foreground deeper into the scene adds dynamic depth to this photograph, and directs the viewer to the witty juxtaposition.
Doggy Style by Matteo Abbondanza
Jonathan Higbee: I am a dog person, but that's not the only reason I'm a fan of this shot. This photograph is clean and simple (two fantastic qualities!) and the composition is pitch-perfect. But my favorite thing about this work is the story it prompted my mind to concoct reflexively and practically subconsciously, a story about a werewolf in mid-transformation. The ability of a photograph to worm its way into one's mind and immediately spark imagination is the sign of a true talent, and my favorite aspect of juxtaposition.
by Zeyd Abdurasid
Jonathan Higbee: Thoughtful use of geometry showed up a lot in this competition, which makes me thrilled! But none may have wielded it as effectively as Zeyd Abdurasid does in this photograph. It took a special kind of vision to connect all the dots – well, squares and rectangles – in such a compelling and entertaining manner.
Smoking Extra Lights by Jamie Rea
Jonathan Higbee: This photograph is the kind of image that could only be seen and made by the artist behind it. I would not have thought to transform the subject and a distant street light into a pensive man having a smoke, but Jamie not only observed it and executed it well, they also gave it an extra punch with a witty title.
Gathering by Job Jetwichan Chaowadee
Jonathan Higbee: "Gathering" is immediately striking, largely because of the strong contrast between legs and the light-colored ground they rest upon. It has those big, simple shapes that interest rather than scare our minds away. And then there is the kicker (pun intended): one of these sets of legs is not like the other. Well done!
Jonathan Higbee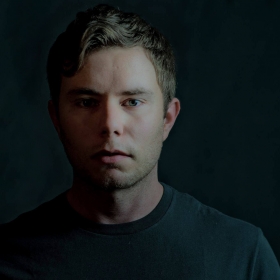 "Jonathan's being behind the camera seems to calm him, it seems to connect him with his subjects. I like that about this work. I also love that this work is in color. So much of what he captures here just wouldn't work in monochrome - and perhaps that instinct to search out these moments of color is what indicates a master color photographer more than anything."
-- Michael Ernest Sweet

Huffington Post 7/19/15
Homepage | WSP profil | Twitter | Facebook